Everything E3 in one place!
Time to break out the decorations and begin the celebration. Our favorite annual holiday, E3 2019 is here. The show opens its doors on Tuesday, June 12th, but the party has already begun. Whether you are a fan of a particular platform or just love games in general, the Electronics Entertainment Expo has plenty of gifts for gamers of all types.
It's going to be a long celebration so be prepared to read many words.
Kojima kicks off E3: Full Story
The hype train got rolling when Kojima Productions released brand new footage of his upcoming action game Death Stranding. The game will debut on the PlayStation 4 on November 8th, 2019 and have 4 versions available at launch ranging in price from $59.99 for the Standard Edition and all the way up to $199.99 for the Collector's Edition. You can check out the 8-minute reveal trailer below:
Another Sony regular shoots it's load early: Full Story
Less than 24 hours later Infinity Ward gave us our first look at the new 're-imagined' Call of Duty: Modern Warfare.
The game bears the same name of the original, but boasts an all-new experience in what Activision is calling a "reimagined experience" which is "edgy, culturally relevant, and thought-provoking". It's safe to assume that the publisher is putting a focus on the singleplayer campaign, a contrast to last years Black Ops 4 which ditched a campaign for the then-trendy battle royale game mode.
The real highlight of the announcement was the revelation that full cross-play will be coming to Modern Warfare across PC, PlayStation 4 and Xbox One. You can read the press release here. Call of Duty: Modern Warfare will release on October 25th, 2019.
THQ Nordic – "Don't forget about us"
Meanwhile, THQ Nordic announced three games in three days starting with SpongeBob SquarePants: Battle for Bikini Bottom – Rehydrated. The classic PlayStation 2, Xbox and GameCube title will be getting the remaster treatment. According to it's listing on the Steam storefront the game will be released "(When) I'm ready!"
The second game announced was an all-new entry in the Darksiders franchise called Darksiders: Genesis. This new game is a top-down action adventure being developed by Airship Syndicate, the new studio by series creator Joe Mad.
The third and final announcement from THQ Nordic was another remaster from the glory days of the original THQ and came with a hilarious cgi video featuring music from Rammstein. Destroy All Humans! will be returning in 2020 on PlayStation 4, Xbox One and PC.
You can check out all 3 reveal videos below:
Gotta catch 'em all… again: Full Story
Nintendo released a short Pokemon Direct ahead of E3 detailing new additions coming to Pokemon Sword and Pokemon Shield due out on November 15th, 2019. There's also a sheep Pokemon…
Hyperkin teases new gaming time machine: Full Story
While E3 tends to look towards the future, not everything announced at E3 focuses on the new and shiny. Hyperkin Project Manager Andrew Steel released the first 'sneak peek' at Hyperkins next retro console, the Ultra Retron. Although no other details were provided, it's pretty obvious this will be similar to other Retron consoles and play original games from the Nintendo 64.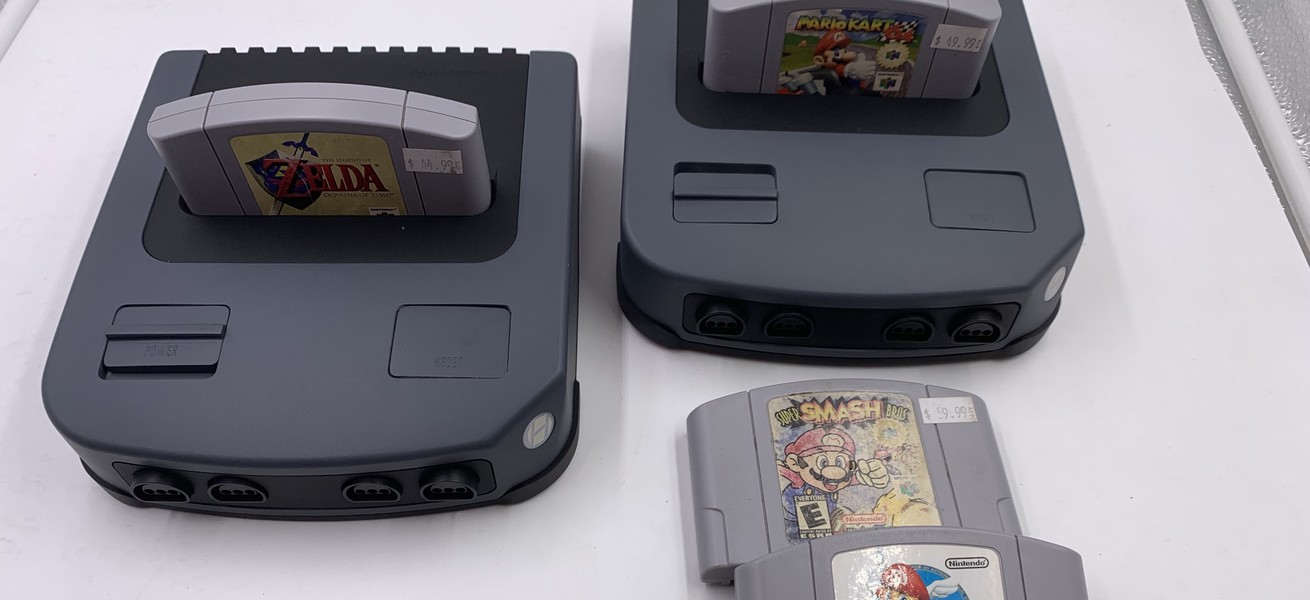 Google wants to be one of the cool kids: Full Story
Meanwhile, Google wants you to install Chrome on every piece of electronics you own, including the toaster, so you can play games just about anywhere. If you haven't been paying attention, Google is throwing their hand in the video game market with an all-new all-streaming service called Google Stadia that will allow you to play AAA games at resolutions up to 4k on any device with a Google Chrome browser or Google Stadia App.
Announced at Google's event was a trio of previously unannounced games plus a whole shitload of current-gen AAA's from some of the top publishers in gaming such as Ubisoft, Bethesda, Bandai Namco, Bungie, and a wealth of others. The surprise reveals included a fun looking indie game called Get Packed, an indie horror title called Gylt, and the star of the show, Baldur's Gate III.
EA gives us our first look at Star Wars Titanf… err Jedi: Fallen Order: Full Story
Electronic Arts didn't waste any time showing off their top game for this fall. Starting off EA Play with nearly 15 minutes of gameplay and a cast full of talented actors, this game is certainly shaping up to be one of the better titles coming out in 2019.
Star Wars Jedi: Fallen Order will be out on November 15th, 2019. You can check out the full reveal in the video below:
Respawn's not done yet: Full Story
The next game shown off at EA Play was another title from Respawn Entertainment, Apex Legends. Respawn revealed several new updates coming to the popular battle royale game with the start of Season 2 Battle Charge. The two biggest announcements were the addition of Ranked Play and the reveal of a brand new character named Wattson.
Apex Legends: Season 2 – Battle Charge will be available July 2nd, 2019. Watch the Wattson character reveal video below:
Battlefield heads out East: Full Story
If you haven't got enough things to shoot at yet well, EA has you covered. More multiple maps are coming to Battlefield V with Chapter 4 mostly focused on staying in Europe while Chapter 5 takes us out to the Pacific. In all there will be 6 maps(3 per chapter) which will be released periodically between June 27th of this year and 2020.
EA reminds us they like sports: FIFA Article Madden Article
Electronic Arts likes their sports games… who knew? In the case of FIFA 20, the biggest addition will be Volta, a new street soccer mode that invokes fond memories of FIFA Street back on the Xbox, PlayStation 2 and Game Cube. Meanwhile, Madden 20 will have a new mode called "Face of the Franchise" where you work your way up from the NCAA to the NFL. There will also be a Closed Beta for Madden 20 from June 14th to the 16th with codes being given out through EA's social media channels.
Madden 20 will release on August 2nd, 2019 while FIFA 20 will be out September 27th, 2019. Trailers for both can be found below:
EA not done milking The Sims: Full Story
Can you really say you're surprised that Electronic Arts continues to milk their franchises for all they're worth and more? *Sigh* The final game EA brought to EA Play was The Sims 4. They've got a new content pack titled "Island Living" due out on the 21st of June. Can you tell how excited I am?
Reveal trailer below: