May 29, 19
|
Death Stranding has been finally given a release date, as well as a new trailer.
Kojima Productions unveiled fresh details regarding their debut title Death Stranding, which is being branded as an action game. You play as Sam Bridges – a courier traveling across a broken America in order to save the country from falling into complete chaos. On the 27th Kojima teased the game on Twitter before dropping the 8-minute trailer earlier today, which can be seen below:
In addition to the trailer, Hideo Kojima had this to say in a blog post on the official PlayStation blog:
People have created "Walls" and become accustomed to living in isolation.

"Death Stranding" is a completely new type of action game, where the goal of the player is to reconnect isolated cities and a fragmented society. It is created so that all elements, including the story and gameplay, are bound together by the theme of the "Strand" or connection. As Sam Porter Bridges, you will attempt to bridge the divides in society, and in doing create new bonds or "Strands" with other players around the globe. Through your experience playing the game, I hope you'll come to understand the true importance of forging connections with others.
Death Stranding will be Hideo Kojima's first project since leaving Konami in 2015. The game has been slowly teased since E3 2016, with information trickling from Kojima's Twitter ever since. Now, the game is set for a release date on PS4 for November 8th, 2019. PlayStation has unveiled several editions of the game: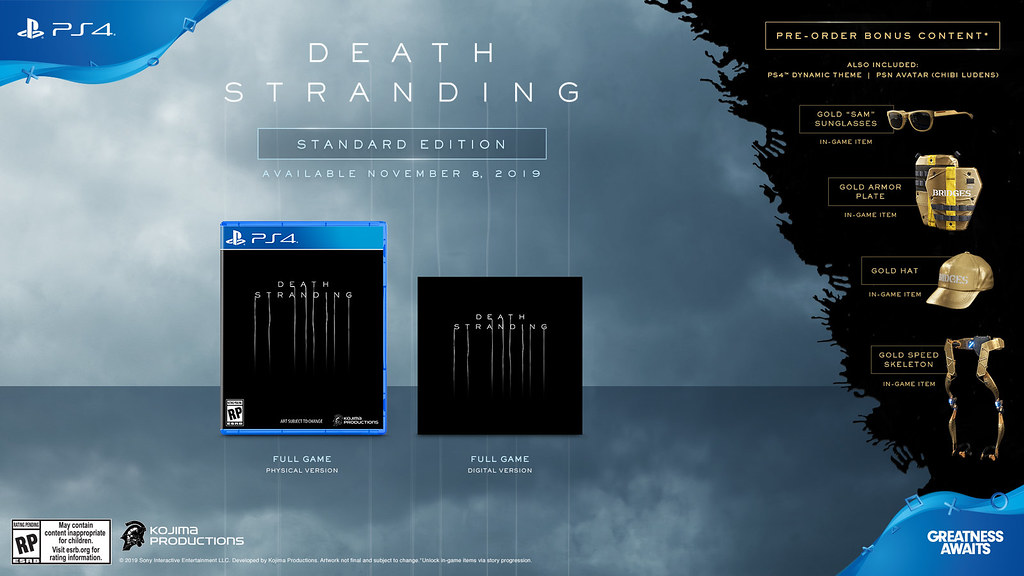 The standard edition (pictured above) will set you back $69.99 and includes a PS4 theme, a PSN avatar and a set of gold plated items including a pair of snazzy sunglasses and skeleton legs that increase the movement speed of the protagonist.
If you're a fan, you may be interested in the special edition: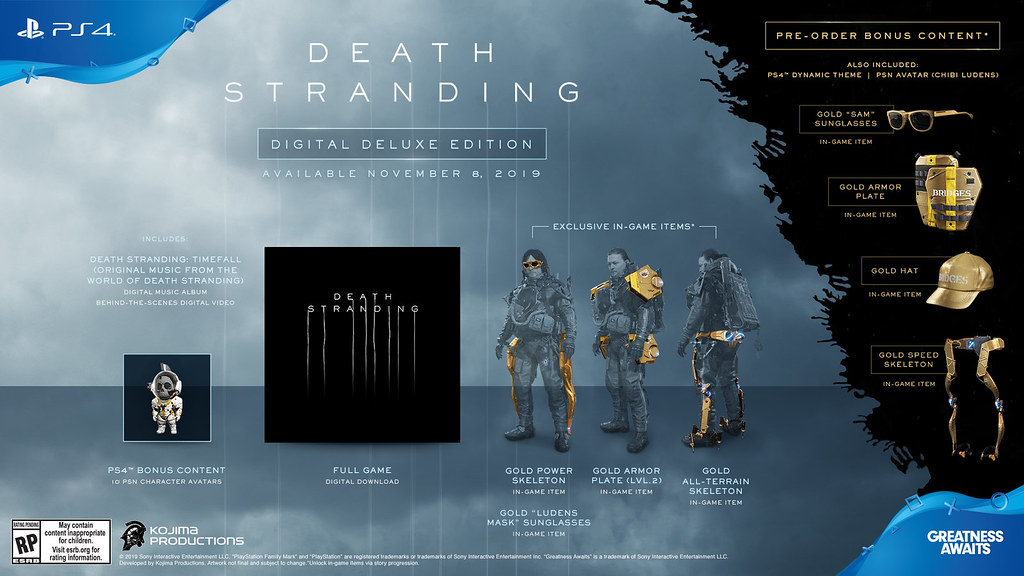 For an extra $19.99, you receive all perks of the standard edition, a set of gold covered skeleton armor, the official soundtrack and 10 extra PSN character avatars. For the most hardcore fans, however, there's something for fans with a bit more disposable income: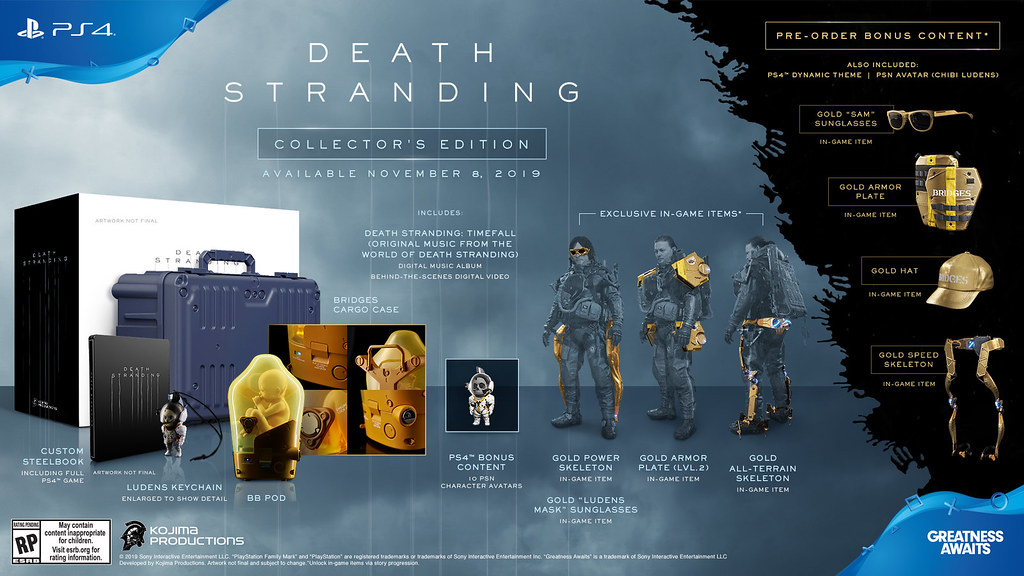 For $199.99, you'll receive all previous rewards plus a keychain, a bridges cargo case to carry things round in, a custom steelbook case and a BB Pod (yes a baby figurine inside a pod).
Death Stranding is coming to PS4 on November 8th, 2019.
Did you know you can report news for us too? Anyone can report the news, or post a review on gamelust.com, AND have a chance to become featured on our homepage! All you need to do is log in or register with us and add your voice today!