Jun 15, 17
|
There's no power greater than X, except maybe PC.
E3 week continues as we take a look at the Microsoft Xbox press conference that took place early Sunday afternoon. After announcing Project Scorpio to the surprise of every one at last years conference, all eyes were on Microsoft as we patiently waited to get our first look at the final retail unit. The good news for Microsoft is the quality of E3 had no where to go but up after EA Games came out on Saturday and took a gigantic shit on stage. Actually, that may have been a better show had that really happened. Just get the guys from South Park to come over and provide commentary on the size and texture of the dump and you've got yourself an Aristocrats skit with the official Bob Saget seal of approval.
Now, onto the show. Ever since Microsoft announced the 6 teraflop horse dick of a gaming console, fanboys from both sides of the fence have taken it upon themselves to fly their flag as high as fucking possible. Never has the industry been so filled with vitriol and hate for a plastic box since E.T. launched on the Atari 2600 35 years ago. So it should come as no surprise that Microsoft starts their conference with a short video measuring the size of their…erm…resolutions. That's right, the screen had a box on display that gradually got larger to show the difference between 480i on the original Xbox all the way up to 4K on Microsofts newest console.
This transitioned into a short but incredibly bright and beautiful light show that surely looked impressive on Microsofts 230975070291 foot 4K TV behind the stage. Now, if you were an employee of Electronic Arts, or recently fired intern who worked in the video truck from EA's show, the lightshow that started off Microsofts conference probably didn't mix well with your self inflicted but much needed hangover. Seriously, whatever it takes to forget the last 24 hours, you're much better off for it. Seriously though, this fucking TV is so huge it probably eats more electricity than some small countries, and you know we measured it, we're guys, anyone who says they didn't measure fucking lies.
So out comes Phil Spencer and everyone in the room goes ape shit. Fans in the front row start chanting his name, people yelling "I love you" while Phil chuckles embarrassingly at all the attention he's getting. Wouldn't be surprised if he was blushing up there. Phil has become one of the rockstars of gaming, the only thing missing from this celebration was the drunk girl up front tossing her panties on stage. Anyway, once the cheers die down Phil wastes no time getting straight into his opening statements. Phil shows off Project Scorpio with an old saying from his days on the original Xbox team. "There's no power greater than X." Project Scorpio is officially named Xbox One X and will be available for purchase on November 7th, 2017. For those nerds who like incredibly nerdy things to argue over, Xbox One X abbreviated is Xb O X. HOLY SHIT IT STANDS FOR XBOX!
Phil now hands the stage over to Kareem Choudhry, Corporate Vice President of Xbox Software Engineering at Microsoft, to talk about the guts of the Xbox One X. Kareem spend a few minutes talking about the consoles specs and how it is a monster. Seems as though the sexually repressed white male has made it to his second show as someone keeps shouting and whistling with every spec revealed. The most incredible detail revealed is that somehow Microsoft has managed to make the Xbox One X even smaller than an Xbox One S(I believe Digital Foundry said total mass is 98% of the S model). So far, the crowd activity is noticeably higher than it was at EA's show.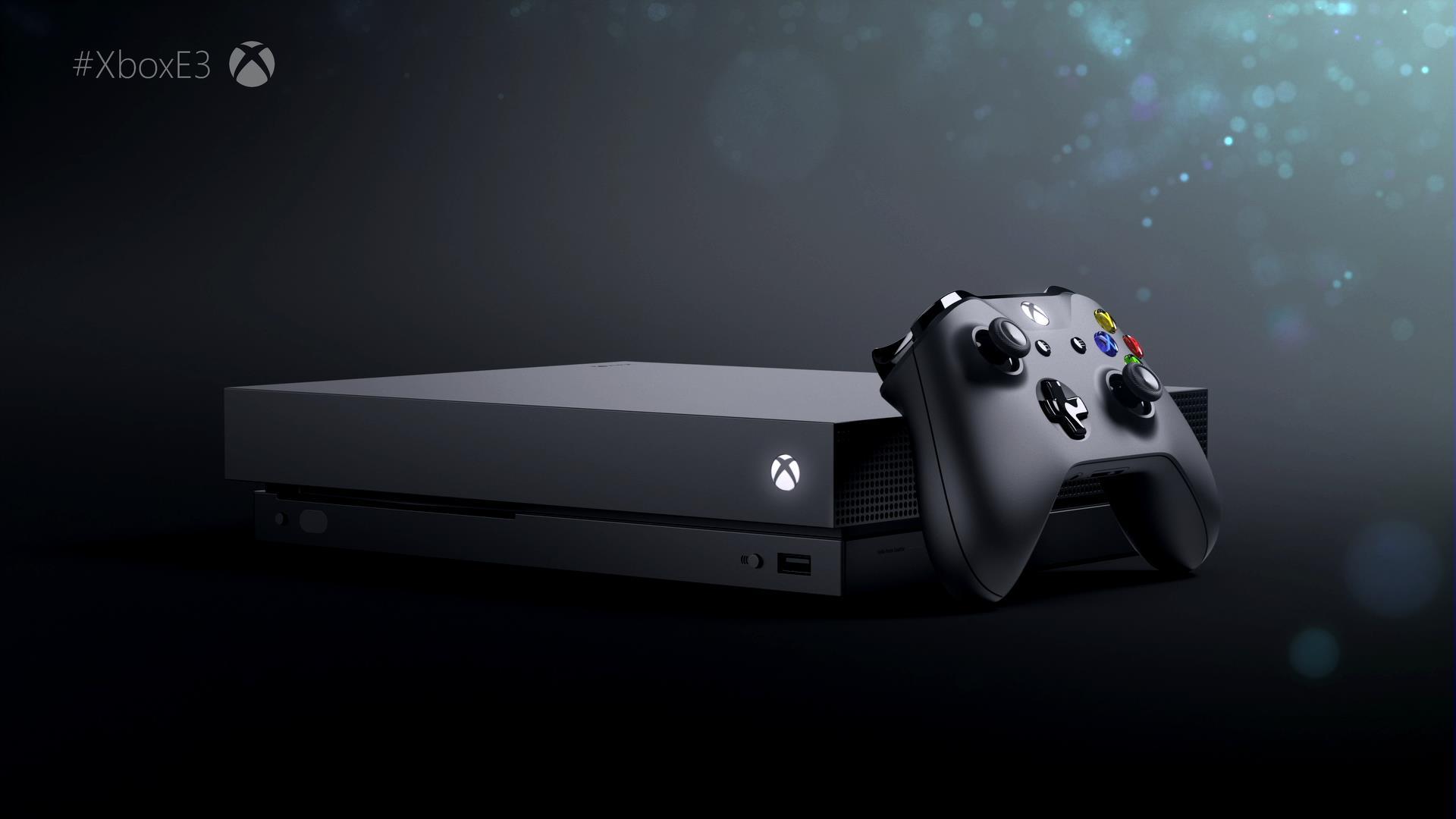 "Now, lets see what this monster can do." Choudhry's final comment brings us to the very first game Microsoft has prepared to show off tonight. To the surprise of no one, it's Forza Motorsport 7. The video starts off showing various views from a desert setting, you can see camels on the ridge. Wait, camels? Can we race them? Can it be a secret Mario Kart style racing game where you spit at your friends to slow their camels down?
The video moves on to show several clips of the race cars and new features like inclement weather and night racing. The video ends as Dan Greenawalt takes the stage to gush over Forza Motorsport being "the premiere partner to the automotive industry." Greenawalt announces a 6 year partnership with Porsche as a turntable beings to rotate off to the side of the stage. In a new twist Microsoft has a world premiere of the latest supercar from Porsche, the 2018 Porsche GT2 RS. Keeping with tradition, Microsoft has brought yet another car to their stage at E3. Luckily I didn't go to E3 this year or I may have had the urge to climb on stage and hump the car. Don't worry guys, I'm just here to buff out the fingerprints.
Microsoft finishes this presentation with a brief gameplay demo to show off the power of Xbox One X in Forza. The graphics in this demonstration look amazing already, but my 1080p TV is unable to show me the full benefit of 4K. Still, racing in the rain looks fucking nuts and the cars sound like pre-packaged sex for your ears. Forza Motorsport 7 will ship October 3rd, 2017 in true 4K at 60 frames per second.
Hooray, Phil is back. He's still blushing as the crowd once again chants his name. Phil announces Forza Motorsport 7 will be in "true 4K, 60 frames per second." We have a feeling this phrase will be mentioned in some form constantly throughout the show. Phil then changes the subject to the games Microsoft will be showing during their presentation. "It is the largest, and I believe the most diverse set of games we have ever shown on our Xbox E3 stage. Today, we will feature 42 games on our stage, including 22 games with console exclusivity on Xbox One."
What followed was 90 minutes of game trailers for upcoming games coming in 2017 or early 2018 with very little breaks in between. With so many games on stage we're going to focus on the major announcements, but will include a brief description of all 42 games, including release dates where known.
First up, a world premiere trailer for Metro: Exodus running in-engine at 4K. The atmosphere looks insane, trailer starts out in the tunnels, but quickly moves outside. After a tense battle with a gigantic mutant bear, the main character uses a zipline to cross a canyon to… catch a train. Who didn't see that coming? Metro Exodus will be 'departing' in 2018.
From the nuclear winter of Russia to the sands of Egypt the next trailer gives us our first look at Assassin's Creed: Origins. "Game footage has been captured in 4K." Microsoft continues to beat the idea of 4K into our brains. There have been 5 mentions of 4K in the first two trailers alone. Jean Guesdon comes out next with a gameplay video for Assassin's Creed: Origins. Seems as though Ubi is learning that we can't stand those fucking towers. The main character, Bayek, has a small bird he can use to scout areas ahead. Although I'm sure there are still a few towers, this is a welcome change to a concept that was used far too often in Ubisoft games.
Microsoft brought out a couple of indies next, starting with a cross between Red Faction and Minecraft minus all of the good parts called Deep Rock Galactic. Next was The Darwin Project, built in only 9 months with concepts similar to The Hunger Games. Perhaps the biggest scoop for the Xbox team is that Player Unknown's Battlegrounds will be a 'console launch exclusive' coming to Xbox One in 'late 2017.'
State of Decay 2 was also on display early on in Microsoft's showwith no shortage of zombies to throw at you. We saw normal drag your feet zombies, zombies running on all fours, crawly zombies, beer gut zombies, and even big ole fatty zombies with scary red eyes. In one scene, the fatty zombie tore one of the characters neck out with his teeth, then tore his body in half with guts flying everywhere. State of Decay 2 will be a Play Anywhere title, with Xbox One X enhancements, coming in Spring 2018.
Of course Microsoft spent a bunch of time reminding parents all over the world to buy more Minecraft games for their kids(and those grown up kids too). This was actually a pretty cool announcement though, so long as you're not a big fan of Sony's PlayStation. Microsoft announced that they were bringing fan created content and cross play to Windows, Mobile, VR, Xbox One, and THE NINTENDO SWITCH. Go ahead, pinch yourself. Ask that girl you've had a crush on since high school if she's 'dtf'. When she slaps you, you'll know this shits real. Microsoft will also be releasing a new expansion for Minecraft called the Super Duper Graphics Pack. This expansion will introduce new 4K textures and lighting, as well as increased draw distance on the Xbox One X and other capable machines. The Super Duper Graphics Pack will be released on Mobile, Windows 10, VR and Xbox One X this fall.
It's no secret Sony has been throwing money around like drunkard at a strip club signing marketing deals with the biggest 3rd party games out this year. Every time you see a trailer for games like Call of Duty WWII, FIFA 18, Destiny 2, Battlefront II, or Far Cry 5, you'll see a PlayStation logo attached to it. That didn't stop Microsoft from sneaking those games into their press conference. As Phil talked about having the best games on Xbox, a picture of the Xbox store appeared on the screen behind him with box shots for Madden 18, Destiny 2, NBA 2k18, FIFA 18, Middle-Earth: Shadow of War, Call of Duty WWII, Star Wars Battlefront II, and Far Cry 5. Sneaky sneaky Microsoft, don't you know Sony paid big money to keep those games off your stage?
Microsoft follows this up with a couple trailers for games made by developers from different cultures not named Capcom or Square Enix. First is a world premiere trailer for Dragonball Fighter Z, a 3 vs 3 fighting game launching in early 2018. Next is the Korean MMO Black Desert Online followed by The Last Night a beautifully crafted indie game in the style of Blade Runner. A weird psychedelic rhythm/platform game on acid called The Artful Escape and Bandai Namco's new souls-esque vampire game called Code Vein are also shown.
Now it's time for Phil to show us all those unannounced 1st party titles we've been clamoring for, no? OK, maybe not, but there were a few moderate surprises, this time the games have actual release dates! First up is Sea of Thieves. I'm excited to see this trailer. I've played Sea of Thieves and it's one of the most fun games I have played in years.  But mostly I'm excited to see new content we haven't gotten to try in the Alpha yet.
The best part of this trailer is that Rare seems to be back in form with all the classic humor we expect from one of the best developers in the U.K. The game looks absolutely amazing. The scenery is incredibly colorful, like a box of crayons vomited all over everything. There's underwater gameplay, sunken ships and a weather system that looks absofuckinglutely amazing. Best of all, the ability to shoot yourself out of a cannon. Sea of Thieves will release in Early 2018.
Next up, a trio of indie titles in dire need of a release date. Tacoma, made by the Gone Home devs, will be coming out on August 2nd, 2017. Microsoft then flat out teases us with what appears to be a new Conker game only to find out it's Super Lucky's Tale. Assholes! And finally we have an update on Cuphead. Yes, Cuphead. Alongside footage that has NEVER been seen before, Cuphead will finally come out on September 29th, 2017.
In a move that makes perfect fucking sense, comedic actor Terry Crews was announced as a playable character in Crackdown 3. Crews shows why he's perfect for this game immediately. Unfortunately the gameplay footage that follows does not do the game much justice. People who tried out the playable demo @ E3 said the game reminded them of the original Crackdown. From the footage I saw I can't wait to get my hands on this. Crackdown 3 will also be coming out on November 7th as a Play Anywhere title.
It wouldn't be a Microsoft press conference without praising ID @Xbox. Accompanied by a montage of indie games, Phil Spencer announces that the ID @Xbox program has surpassed 500 titles released so far and calls it "a milestone for everyone who loves great games." The games featured in the montage include Osiris: New Dawn, Raiders of the Broken Planet, Unruly Heroes, Path of Exile, Battlerite, Surviving Mars, Fable Fortune, >Observer_, Robocraft Infinity, Dunk Lords, Minion Masters, Brawlout, Ooblets, Dark and Light, Strange Brigade, Riverbond, Hello Neighbor, Shift, and Conan Exiles.
Of the 19 games shown in this montage there are a few games I am definitely interested in. At the top of the list is a strange little game called Hello Neighbor where you have to sneak into your neighbors house to figure out just what in the fuck he's hiding. Very creepy atmosphere that seems at odds with the cheery setting and upbeat graphics. I'm also very interested in learning more about >Observer_, a cyber punk thriller about a detective who can use technology to read peoples minds to solve a murder. Some of the other notables are Path of Exile, a smash brothers clone called Brawlout, and Riverbond, the newest game from the Monument Valley devs.
Immediately following the ID @Xbox montage Microsoft gave us a peek at a couple of games that could steal a few 'Best of' awards at this years E3. One of those titles is the long awaited Ashen from Aurora 44. Ashen appears to be a 2 player co-op title with a dark and atmospheric setting in the battle between light and dark. No launch date was provided. Next up was a trailer for the prequel to Life is Strange, a critically acclaimed episodic adventure from Square Enix. Life is Strange: Before the Storm will be released in 3 episodes, the first of which will be available August 2nd.
From WB Games, Michael De Platter comes out to talk about Middle-Earth: Shadow of War. The game looks absolutely stunning but also includes a bit more humor than I remember from the first game. The trailer introduces us to a big fucking orc by the name of Bruz who doesn't seem to take anything seriously. Seriously, this fucker is huge! Anyone want to take a guess at how big his dong is? Huh? No? OK. In addition to Bruz, we're introduced to a few of the enemies in the new nemesis system, including ugly, uglier and fugly. It also appears they have added a bit of a strategy element to the battles. Middle-Earth: Shadow of War is due out on October 10th, 2017.
Another game sure to win a few 'Best of' awards is up next, and it's as beautiful as any game I've ever seen. With a live performance on piano by composer Gareth Coker, the images on screen leave little doubt. Microsoft is making a sequel to the incredibly popular Ori and the Blind Forest. Video games at their core are a form of art. Ori is on a completely different level. This isn't just a video game. It's a fucking masterpiece that should be on display at the Smithsonian. The new game is called Ori and the Will of the Wisps, a release date was not provided.
The Xboss returns… Phil comes back to the stage to talk about backwards compatibility. With over 385 Xbox 360 games playable on Xbox One, Phil notes that half of all Xbox One gamers have tried out a backward compatible game on Xbox One. But Microsoft is not done, Phil is here to announce 'an exciting expansion to the program'. The crowd erupts with cheer as the original Xbox loading screen starts up on the screen. Crimson Skies will be the first original Xbox title playable on Xbox One, with more to share later in 2017. A second title, Fuzion Frenzy would be announced the following day during the Xbox Daily Show.
Phil directs his attention back to 4K on Xbox One X, promising 5 first party titles and over 30 titles from 3rd parties will be receiving Xbox One X enhancements on November 7th. The list of games include the following…
Gears of War 4
Forza Horizon 3
Killer Instinct
Halo Wars 2
Minecraft
Rime
Witcher 3
Skyrim
For Honor
Farming Sim 17
Dishonored 2
Paladins
Mantis Burn Racing
Injustice 2
Titanfall 2
Homefront: The Revolution
Ghost Recon Wildlands
Final Fantasy XV
Hitman
Resident Evil 7
Outlast II
Rocket League
Doom
Fallout 4
The Surge
Warhammer: Vermintide
Ark: Survival Evolved
Superhot
We Happy Few
Dead Rising 4
Elder Scrolls Online
There were also 5 games I could not identify.
Phil praises the diversity of the games that Microsoft brought to the Xbox press conference. Once again bringing up 42 games on stage, 22 of which are exclusive. After months of having to put up with fans of the rival console claiming Xbox had no games, Phil really wants to push this statistic. We cannot agree with his assertion that 22 games were exclusive, reality is there were maybe 5 exclusive, while the other 17 are potentially timed exclusives. Still, Microsoft is obviously sick and tired of being told their consoles have no games and went straight for the cock punch.
As things start to wrap up, Phil has one more announcement for us. Unfortunately most of the suspense has already been taken out of this announcement by Geoff Keighley a mere 2 hours before the show. Coming into the show we only wanted to know one thing. How much would this fucker cost? Everyone wanted Microsoft to come out and say $399 to put Sony back on their heels but it was not to be. Phil announced that Xbox One S was getting a price cut to $249.99, while the Xbox One X would be available on November 7th, 2017 for $499.99.
When Keighley leaked the price, fans were obviously upset, some even started petitions to sue him over the leak. Because we all know how important it is that we get our favorite plastic box for $400 right? Truth is I think it was a brilliant move by Microsoft to temper expectations as everyone and their sister was saying Scorpio would be $399.99. This gave all of us who were most excited for this product a few hours to let that price sink in so that we could focus on the games rather than one small detail of the show. And to be honest the crowd reaction was a lot stronger than I expected. Considering all that this machine can do it wouldn't have been too much of a reach to expect the console to cost even more. While a lot of Xbox fans will wait for that $399.99 price drop, I think the hardcore Xbox fan will be perfectly fine paying $500 for the most powerful console out there.
Closing out the show, Phil hands the stage over to Patrick Soderlund from EA. EA promised we'd see more Anthem tonight, and holy fuck did they save the best for last. By the time the trailer is over I look like Randy from the episode of South Park when he discovers porn on the internet. It doesn't even take 30 seconds to see that the entire budget for facial animations went towards this game rather than Mass Effect: Andromeda. The graphics are outstanding, like a cross between Horizon: Zero Dawn and the concepts behind Destiny. There's even underwater gameplay here. By the end of the trailer the characters are running into a gigantic storm that makes the storms from Sea of Thieves look like a kiddie ride at the local water park.
Without a doubt, Anthem is quite possibly the game of the show at this years E3. After 10 minutes with this game, most will forgot how bad Mass Effect: Andromeda was. Like, holy shit! The guy in the colossus suit shot a mortar and it left a gigantic fucking hole in the ground. This looks like the game Destiny should have been. No doubt a few people over at Bungie just shit their pants. The game even has their own version of Engrams, just like Destiny. I already know what I'm going to do when I get this game. First thing, find the nearest loot cave! Even better, Anthem is going to be a 4 player game. Anthem will be out in 2018 and will be without doubt one of the flag ship 3rd party games pushing the Xbox One X next year.
If you missed the show, you can check out the full E3 2017 Xbox press conference in the video below. If you want to make it even more fun, invite some friends over and turn the show into a fun drinking game. All you need to do is take a shot every time someone mentions better on Xbox One X, Xbox One X enhanced, or 4K is mentioned/displayed on screen. We would not suggest anything too strong as by our count these phrases were brought up at least 40 times throughout the show.
Don't forget to check out our other E3 press conference recaps and share your thoughts in the comments below.
Ubisoft Found Guilty of Grand Theft Mario.
Greatness No Longer Awaits.
Nintendo Drops the Pokeball.
Did you know you can report news for us too? Anyone can report the news, or post a review on gamelust.com, AND have a chance to become featured on our homepage! All you need to do is log in or register with us and add your voice today!