Apr 29, 20
|
appreciate the art digitally
If you've been to New York City, you may have visited the Metropolitan Museum of Art; it's a rather large building filled with famous paintings and exhibitions.
But ever since the lockdown has been put into effect and people across the world are stuck inside, The Met has been forced to close its doors. Luckily, the art lives on through the power of Animal Crossing: New Horizons.
Announced in a post on their website, The Met's editorial team explained how thanks to the folks at Animal Crossing Patterns Tool, an impressive 406,000 artworks are available to scan into Animal Crossing New Horizons. The Getty Museum in Los Angeles has done a similar thing with its collection of 79,000 artworks.
The process is quite simple: head to this page where you can browse through the art collection (we recommend having a look at Vincent Van Gogh's collection if you're stuck) and pick out ones that interest you. Once you've decided on your art piece (or pieces), simply click on the image and then click the share button which sits directly below the image. You'll recognise the leaf symbol that has become synonymous with the Animal Crossing franchise. Clicking on that will grant you a QR code.
Next you'll want to head into the Nintendo Switch Online app (free on Android and iOS) and select Animal Crossing: New Horizons under 'Game Specific Services'. You'll be greeted with NookLink and multiple options; selection 'Designs' and then 'Scan a QR Code'. This will open up your camera which will be used to scan the code.
Aim your camera at the screen with the QR code on the Met website and just like that it'll scan and detect the pattern.
Finally, head on into Animal Crossing: New Horizons and navigate to the custom designs designs app on your in-game phone. Press the + button to download the pattern and it'll ask you if you wish to import a design from the 3DS. Select yes and it will detect the pattern you chose. Then, select a slot to place the pattern and confirm the override and just like that, you have your very own piece of The Met in Animal Crossing.
I tried this with one of my favourite piece of artworks, 'The Harvesters' which i displayed in my town square: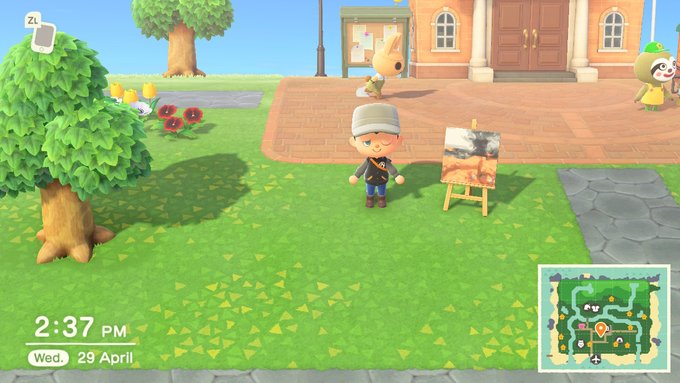 As you can see, it is a pixelated version of the original artwork. Very neat!
Animal Crossing: New Horizons has been a big hit for Nintendo, racking up 5 million copies sold worldwide in its launch month of March.
It continues to dominate headlines and social media as it has provided solace for many people during the COVID-19 pandemic, in which a good majority of the world have been placed on lockdown and are forced to stay inside.
The game takes you to a deserted island where, with the help of Tom Nook, you are tasked with building a town that is capable of having guests such as KK Slider come over. The game adds new mechanics such as crafting and gathering resources, both of which are essential to making progress on your island.
Nintendo have managed to round up new fans of the franchise as well as old. There are also a number of celebrities who are playing, including Elijah Wood, Guy Fieri and Stephen Fry.
Animal Crossing: New Horizons is out now on the Nintendo Switch.
Did you know you can report news for us too? Anyone can report the news, or post a review on gamelust.com, AND have a chance to become featured on our homepage! All you need to do is log in or register with us and add your voice today!