Jul 25, 16
|
What goes up, must come down!
Following the launch of Pokemon Go shares of Nintendo skyrocketed, nearly doubling in value in a few days time. With a rise of $17.6 billion in market capitalization it had appeared that Nintendo had returned to relevancy after their latest gaming console(WiiU) and handheld(New 3DS) had failed to meet expectations. Perhaps the icing on the cake was when Nintendo's total value jumped ahead of Sony, making Nintendo the most valuable game hardware company in Japan.
Unfortunately that icing has already melted, and the cake is turning rancid. According to a report on Bloomberg.com, "Nintendo Co. shares plunged by the most since 1990 after the company said late Friday that the financial benefits from the worldwide hit Pokemon Go will be limited."
"The stock sank 18 percent to 23,220 yen at the close in Tokyo, the maximum one-day move allowed by the exchange, wiping out 708 billion yen ($6.7 billion) in market value." David Gibson, an analyst from Macquarie Securities estimates that Nintendo, a shareholder in the game's developer Niantic Inc. and Pokemon Co., has an "effective economic stake" of just 13 percent in the app. Far lower than many investors had believed.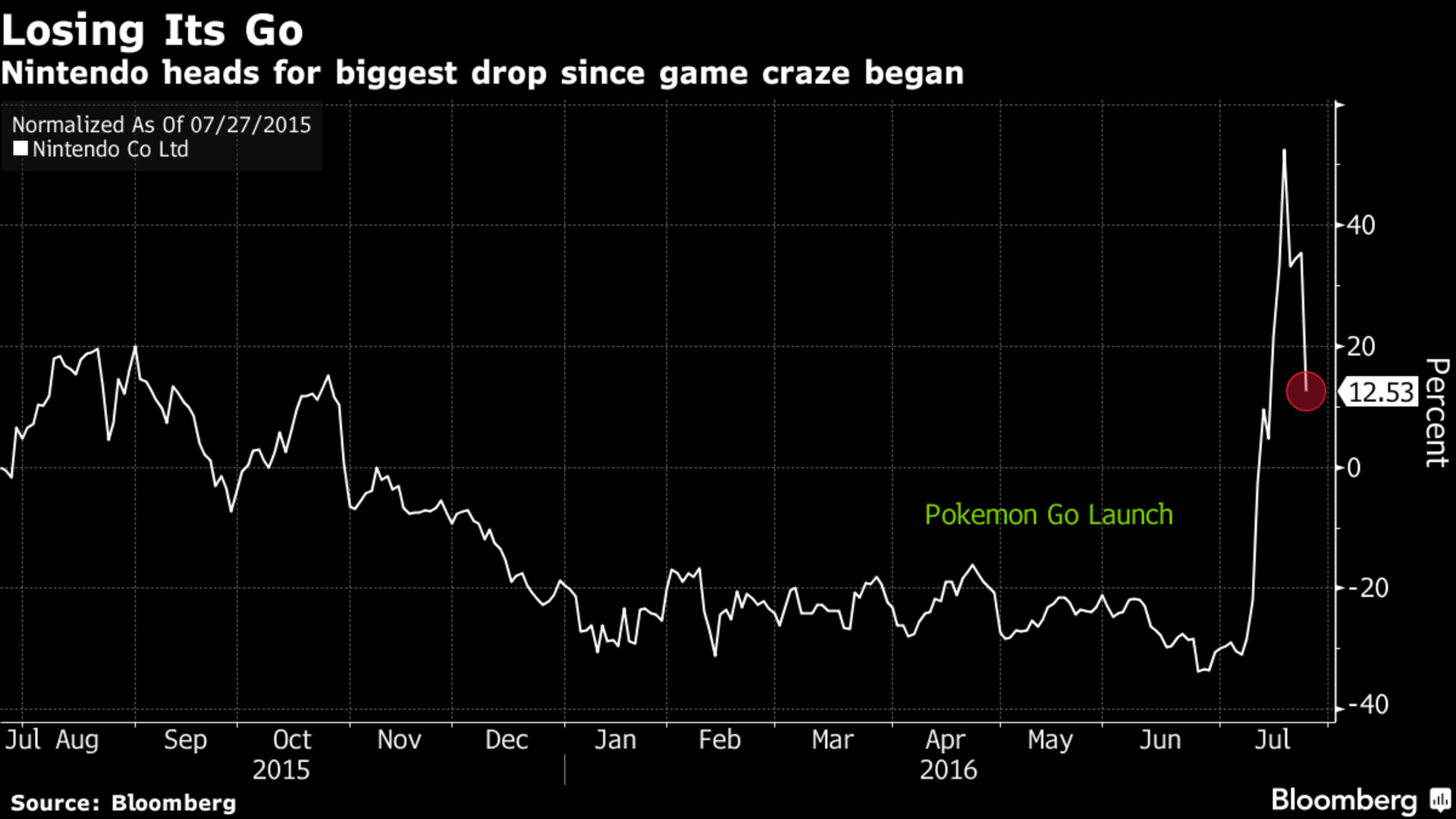 Nintendo issued a press release after the market closed on Friday in Japan stating that the game's financial impact will be "limited" and that it will not need to revise its annual forecast even after factoring in the games success. Nintendo also indicated that revenue from Pokemon Go Plus, a Nintendo-produced accessory for Pokemon Go, has already been factored into the current projection. Nobuyuki Fujimoto, a senior market analyst at SBI Securities Co, was surprised by the move stating that "The content of the announcement itself is not that shocking, but it is a surprise they said it on Friday instead of when they report earnings." Nintendo will report first-quarter earnings on Wednesday after the market close. This will not include earnings from Pokemon Go which launched after the quarter had ended. The firm is forecasting an annual net profit of 35 billion yen in the current fiscal year, up from the 16.5 billion yen it earned last year.
According to Bloomberg, shares of other companies related to Pokemon Go  also fell. McDonald's Holdings Co. (Japan), the game's exclusive launch partner, declined 12 percent. Electronic parts maker Hosiden Corp., which Mitsubishi UFJ Financial Group Inc. said may produce Pokemon Go Plus, sank 16 percent.
Regardless of the recent excitement, Nintendo is still trending up in our eyes. Once the dust settles, potential investors can look forward to announcements from Nintendo regarding their other upcoming mobile games. Additionally Nintendo is expected to reveal their next-generation console soon. The new console, currently codenamed "NX", is scheduled to launch in March 2017 along with the much anticipated Legend of Zelda: Breath of the Wild.
Did you know you can report news for us too? Anyone can report the news, or post a review on gamelust.com, AND have a chance to become featured on our homepage! All you need to do is log in or register with us and add your voice today!