Jan 5, 18
|
Burnout Paradise HD could be coming March 1st
A rumour has surfaced claiming that Burnout Paradise is getting a remastered release for the PS4 and Xbox One according to Brazilian news site Gamepress which showed a supplier listing: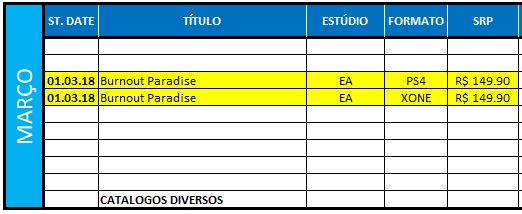 Burnout Paradise was an instant success and the latest big addition to the Burnout franchise. The game was praised for bringing the open world mechanic to the series. Since Burnout Crash! No new game in the franchise has been released for 6 years.
If the rumours are to be believed then we are looking at a March 1st release date. The game will be called Burnout Paradise HD and will be sold for $39.99. Neither EA or Criterion have given any statement on the listing but we will keep you updated on the situation.
Did you know you can report news for us too? Anyone can report the news, or post a review on gamelust.com, AND have a chance to become featured on our homepage! All you need to do is log in or register with us and add your voice today!