Jan 18, 17
|
This list compiles all known retail and digital release games announced for the Nintendo Switch so far.
For the few devout Nintendo fans out there, January 14th was a day of celebration. For the rest of us, it turned into a day of mourning. Announced in October, the Nintendo Switch is the hybrid home/handheld console that will allow you to take games like Zelda, Mario, Splatoon, and a wealth of others anywhere you go. That is, if you live in La La Land.
When it comes to dropping balls Nintendo has been unmatched. Not like a 12 year old seeing their first set of tits. No, this was more like a 3rd string NFL quarterbacks recurring nightmare. Although Nintendo has only announced a handful of titles, we have dug up a total of 77 titles confirmed to be in production for the Nintendo Switch. Unfortunately many of these games are digital releases or ports of existing games from competing consoles. Check out the list below to see them all.
1, 2 Switch (source)
Arcade Archives: Neo Geo
Arms (source)
Binding of Isaac: Afterbirth + (source)
BlazBlue – Switch
Colorverse, The
Constructor HD (source)
Cube Life: Island Survival (source)
Derby Stalion
Disgaea 5: Complete
Dragon Ball: Xenoverse 2 (source)
Dragon Quest X (source)
Dragon Quest XI (source)
Dragon Quest: Heroes 1+2 (source)
Dungeon of Zaar (source)
Farming Simulator (source)
Fast RMX
Fifa – Switch (source)
Fire Emblem 2018
Fire Emblem Warriors (source)
GoNNER (source)
Graceful Explosion Machine (source)
Has Been Heroes
I am Setsuna
Just Dance 2017 (source)
Kingdom (source)
Legend of Zelda, The: Breath of the Wild
LEGO City Undercover (source)
Mario Kart 8 Deluxe
Mech Super eXtended (source)
Minecraft: Story Mode
Minecraft: Switch Edition
Monster Boy and the Cursed Kingdom (source)
NBA 2k18
New Frontier Days: Founding Pioneers
No More Heroes 3 (source)
Oceanhorn: Monster of Uncharted Seas (source)
Pikmin 4 (source)
Pinky Elefante
Pokemon Stars (source)
Project Octopath Traveler (source)
Puyo Puyo Tetris (source)
Rayman Legends
Redout
Rime (source)
RISE: Race the Future (source)
Riverside (source)
Romance of the Three Kingdoms XIII
Sacred Hero, The (source)
Seasons of Heaven (source)
Shin Megami Tensei – Switch (source)
Shovel Knight: Treasure Trove (source)
Skylanders: Imaginators
Snipperclips (source)
Sonic Mania (source)
Sonic the Hedgehog (2017) (source)
Spelunker World (source)
Splatoon 2 (source)
Stardew Valley (source)
State of Mind (source)
Steamworld Project 2017 (source)
Steep
Story of Seasons
Super Bomberman R (source)
Super Mario Odyssey (source)
Syberia 3
Taiko Drum Master – Switch
Tales of Series – Switch
Tank It! (source)
Terraria
The Elder Scrolls V: Skyrim – Special Edition (source)
Ultra Street Fighter II: The Final Challengers (source)
Wonder Boy: The Dragon's Trap (source)
Xenoblade Chronicles 2 (source)
Yooka-Laylee (source)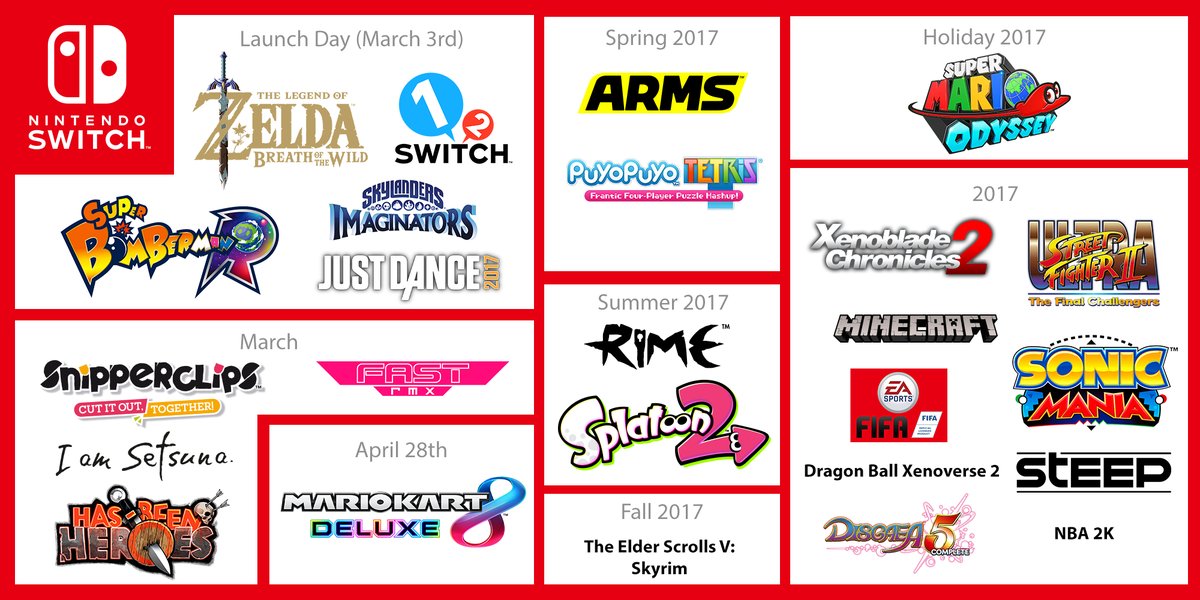 Did you know you can report news for us too? Anyone can report the news, or post a review on gamelust.com, AND have a chance to become featured on our homepage! All you need to do is log in or register with us and add your voice today!