Mar 15, 18
|
First Person Rogue Lite is a delight to play
gameplay 90 / story 95 / graphics 95 / sound 90
DISCLAIMER: Gamelust was given a copy for City of Brass by developers Uppercut Games. This does not affect our opinion on the game whatsoever.
Procedural elements in video games are becoming somewhat of an industry standard in recent years; anything from levels to weapons is randomized to create replayability and gamers are appreciating it although it's not a feature that's obvious in AAA games (needless to say they are still there e.g. Borderlands 2) but instead indie titles which are gaining traction thanks to exposure on consoles.
One such game is City of Brass, currently available via early access on Steam (coming to consoles later this year). The game takes you through procedural levels where you fight against enemies and traps, all the while looting any treasure you see. It's a refreshing title that I've been playing for a few months now and I have to say they've accomplished a lot in a short amount of time. Perhaps one of the greatest achievements is the way City of Brass makes you feel like a complete badass, traipsing through a sunken city in hope of becoming rich.
Wait, no. There's something much greater than that; the whip. Want to be the Persian version of Indiana Jones? Go for it because in City of Brass that's a thing.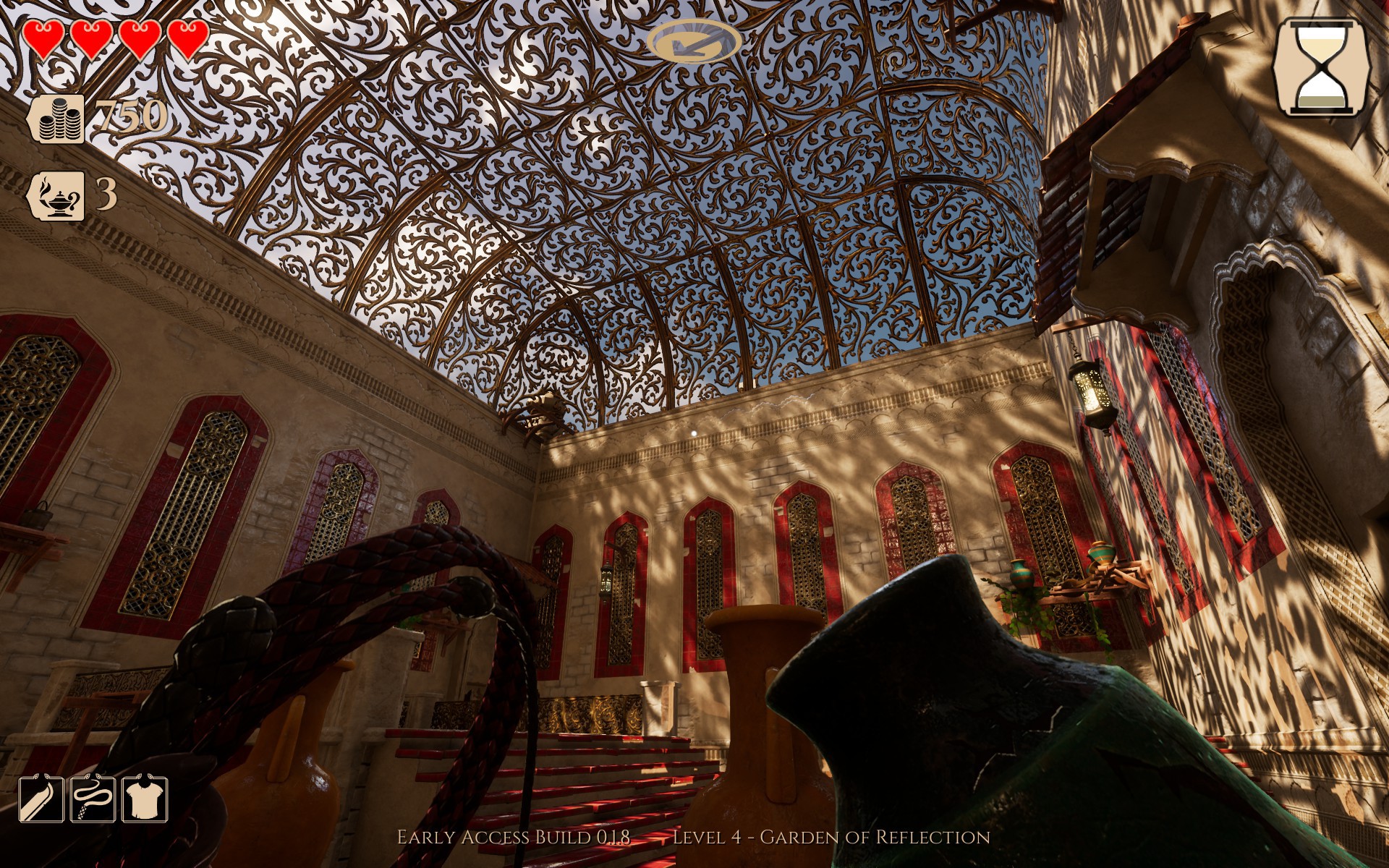 Using this deadly weapon to your advantage can yield some great fun. For example, it can be used to not only grab items out of reach but to trip enemies up, or whisk their sword right out of their boney hand and the more you use the whip the more you'll understand about how you can pull off impressive combos involving the sword that is also given to you.
Speaking of weapons, they can be upgraded to suit your needs (along with the armor). The game gives you an option to take these improvements and advance furthering your progress into the game to fight against the monstrous bosses and minions you'll encounter which ranges from anything to a skeleton with a sword to a demon in a flying pot.
Along with this varied selection of weapons comes blessings and burdens which are essentially modifiers that shape how your game plays. Blessings are good effects such as extra health or more damage (making your game easier) while burdens do the exact polar opposite decreasing your health and less damage (making the game harder). These traits are similar to those in Payday 2 or Lego Star Wars: The Complete Saga. Burdens and blessings are of course completely optional and are only there if you wish to spice up your gameplay.
City of Brass has an atmosphere that dies upon contact with the enemies. You could be in a room and the only door leads to a courtyard and once you take in that first look at the area a chance of being surprised or shocked goes out of the window, however, this disappointment can't be said for the traps which I promise will fuck you over at least a couple of times during your playthrough.
That being said you can grab a special item from a genie that disables all traps for the level which is handy if you happen to find it at the start of a floor. Genies also sell better weapons and armor, special traits and a helping hand in exchange for gold which can be found in abundance scattered across the floors, some in places less accessible than others.
All in all City of Brass is a game that's developing nicely into a complete game. While it still lacks content and variety the past few updates have been adding just that and with the upcoming Xbox One, GDC feature, gamers will hopefully be able to see this title is yet another indie title worth checking out. Towards the end of the year I will be writing a detailed review and give a final score but for now, bookmark Gamelust to ensure you keep up to date with the latest news and reviews.
Did you enjoy this review? Want to post your own review? Anyone can report the news, or post a review on gamelust.com, AND have a chance to become featured on our homepage! All you need to do is log in or register with us and add your voice today!
You must be logged in to leave a comment